HyperVision™ - Your Complete Online Restaurant Management Solution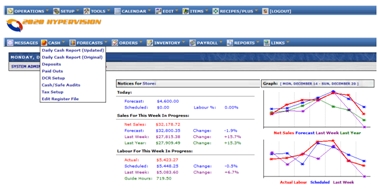 From register or server cash-outs, cash control, debit card and bank deposit management, to advanced sales mix reporting, cost of sales mix and promotion analysis, HyperVision™ empowers you, a restaurant professional, with integrated online tools you need to manage your restaurant operation more effectively, even from home or when on holidays.
This industry, your industry, is too well known for the long hours required. That's why we've designed HyperVision™ to streamline and automate restaurant management tasks.
Online Restaurant Management
Imagine performing end of shift and daily tasks from anywhere, anytime. Imagine knowing how busy your restaurant is or when cash shortages occur, even when you are on holidays 50,000 miles away from your location.
Web Based Restaurant Management
With HyperVision™, you can perform scheduling, order stock, analyze sales, project sales, track inventory and monitor (live via the web) real time sales, labor costs, inventory levels and even watch your employees perform their duties. And you can do this from home or 50,000 miles away from your restaurant location.
Restaurant Management POS Integration
And our complete online restaurant management system can be integrated with nearly any existing restaurant POS system.
Restaurant Management Features
Our online restaurant management package includes a huge number of features. Here's a small sampling:
Messaging System
Cash Out (per shift / daily)
Daily Export to ACCPAC
Sales Analysis Reports
Forecasting (hard values)
Forecasting (rule based)
Forecast Variance Reports
Weather Tracking
Purchase Orders
Electronic Ordering

Invoice Receiving
Recipe Costing
Purchase Back Order Tracking
Inventory Counts (various)
Inventory Variance Reports
Inter Store Transfers
Wastage Recording
Payroll Integration
Employee Scheduling
User Levels (admin, user..)
---
HyperVision™ will save you money while helping you manage your restaurant business.
Call 1 (800) 465-2400 or Contact Us now.
2020 ITS Corp. © 2023