HyperPOS™ - The Best Point-of-Sale Solution for Restaurants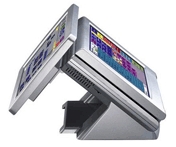 HyperPOS is an easy to use, cost effective, integrated Touch Screen POS management system that provides you with the tools and information needed to effectively manage your restaurant business.
The HyperPOS™ point of sale solution has been designed for the food and liquor service industry, including food, full service restaurants, bars, franchises and chains.
For nearly a decade, 2020 ITS has provided hundreds of independent restaurants and franchise chains with solution focussed technology that has proven to improve speed of service, increase customer satisfaction, reduce operational costs and simplify and streamline restaurant management tasks.
While 2020 ITS products and online web based solutions are enterprise class, they are not expensive. 2020 ITS also provides 24x7 hardware and software support. All support requests are professionally managed, with tickets being issued for tracking and status update purposes. With 2020, you talk to our A+ N+ certified support experts who are directly employed by 2020.
Each HyperPOS™ solution is customized to fit your specific operational requirements. Since build configurations (menu items, screen designs, kitchen printers, touch screens, etc) are customized for each restaurant location, when we deliver your system, you will be receiving a highly optimized business solution that will increase your profits and streamline your business.
---
HyperPOS™ Restaurant POS Features and Benefits
Restaurant PC Based Touch Screen Point-of-Sale solution
POS Integrated Debit and Credit Card Processing
Consolidate all of your transactions into one easy to use workstation
POS Live Internet Connectivity
Automatic offset backup of data and immediate auditing abilities
Live sales transaction information uploaded every 15 minutes
Restaurant POS Cashier Touch Screen
User friendly design
Integrated employee time clock
Order history
Left or right screen orientation
Point-of-Sale Customer Displays
Improved order accuracy
Full color animated marketing information
Can be used for promotions
POS Kitchen Display
Full color kitchen displays
Bump Bar and Touch Screen Compatible
Chronological Display
Multiple Routing Options
Flexible Number of on-screen orders
Color Coded order Prioritizing
Restaurant POS Debit and Credit Card Processing
Improve customer service times
Process transactions online, no need for additional phone lines
Eliminate the cost of renting extra machines
Less equipment on front counter
Integrated system increases cash out accuracy
Multi-level security to prevent unauthorized usage
No need for keys or swipe cards
Potential for finger print reading and retina scanning
Restaurant Video Activity Monitoring
Monitor your restaurants from anywhere
Secure remote access
24 hour image recording
Multi-day extended recording loop
---
Increase your profits, put our HyperPOS™ Restaurant Point-of-sale solution to work for you.
Call 1 (800) 465-2400 or Contact Us now.
2020 ITS Corp. © 2023