Digital Menu Boards for Restaurants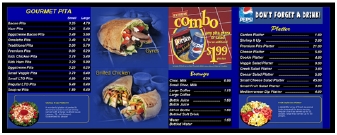 2020 provides a unique solution for merchandising a menu. Large flat screen digital displays are used to display your menu board and inform customers of current promotions using text, graphics or multi-media content.
From menu design to menu pricing updates, the 2002 Digital Menu Board solution provides everything you need. Hardware, menu design software, merchandising and more, it's all provided by 2020 ITS.
Restaurant Menu Board Solution
2020 ITS has based the design of their digital menu boards upon a clear understanding of the hospitality industry success factors from a marketing and operations perspective. Understanding the industry means the design provides quick content delivery for both large and small deployments.
Digital Menu Board Hardware
2020 Digital Menu boards utilize standard non proprietary hardware to deliver the content. 2020 can supply hardware or utilize existing client hardware that meets 2020 specifications. For the most part, nearly any type of monitors may be used (CRT, LCD, Plasma and even Projection systems). This means that a client's investment in previously purchased hardware may be utilized.
Digital Menu Board Content
Content can be designed at any level of the organization with Video, Dynamic or Static Images and Text.
Digital Menu Board Package
The 2020 Digital Menu Board solution includes software for delivering dynamic digital signage quickly and easily. The 2020 Digital menu board software provides everything you might require for digital content design, content management, content distribution and multi-media management:
Digital WYSIWYG Menu Designer
Integration with POS
Digital Menu Board Player
Digital Menu Board Multi-Media Merchandiser
---
2020 ITS will provide you with a customized merchandising solution that increases sales.
Call 1 (800) 465-2400 or Contact Us now.
2020 ITS Corp. © 2021